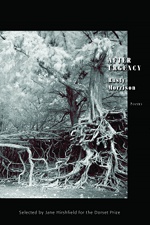 Winner of the Dorset Prize, selected by Jane Hirshfield




Click here to purchase After Urgency from Tupelo Press


The question underlying After Urgency is how to go on—a question that presses even when we can do nothing else—and each poem in this collection posits a hard-wrestled, multiplying answer of gorgeous continuance. Rusty Morrison instantiates idea and feeling in ways unlike any other poet now writing. The intelligence and aliveness here are omnidirectional. Inhabiting extremity with speech's own vision and musics, Morrison's image-assertions are uncanny in their inter-mixing of inner and outer, of precision and threshold-awareness. This is a hallmark book of grief and life.
—Jane Hirshfield, final judge of the Dorset Prize




Reviews